Article written by Dylan McGuire Devine (6/16/21)
32) Houston Texans
The Texans are 100% in the worst position in the NFL. It is simply put a shit show in Houston right now.
31) Detroit Lions
Simply put, this Lions team is just not good. I am not one bit confident in Jared Goff to lead this team to winning games. I think RB D'Andre Swift has potential to have a great year, but that is the only positive I see coming out of this season for Detroit.
30) Cincinnati Bengals
Getting Burrow back will be great for the Bengals. But they still have significant weaknesses on that team while being in a tough AFC North division. This will leave them struggling to win games.
29) Jacksonville Jaguars
I'm sure the Jaguars will improve this season, but not right away. Both Trevor Lawrence and Urban Meyer are going to have to adjust. They still have some missing pieces and issues they need to fix which is going to take some time.
28) San Francisco 49ers
Another team that made a perfect move in the draft. Drafting Trey Lance was extremely smart as Jimmy G had been struggling for some time. Although they don't look too bad on paper, I have a strong feeling they are going to struggle to win games in a tough NFC West division.
27) New York Jets
Drafting Zach Wilson was the perfect move for the Jets. They made some good moves in free agency and in the draft, but I just don't think they'll be good for another few years. Wilson is going to need some time to adjust.
26) Philadelphia Eagles
I am actually pretty confident that Jalen Hurts will have a breakout season this year especially with the addition of Devonta Smith. But with a mediocre defense I think they will still struggle to win games. They didn't do too much this off-season to improve the team, and that is going to bite them in the ass.
25) Carolina Panthers
The Panthers actually have a really solid team on both sides of the ball. Their success is really going to come down to how their new QB1 Sam Darnold performs.
24) Denver Broncos
Without a solid QB the Broncos are going to struggle offensively again. Their defense is actually pretty good, but you need a balance between offense and defense. Denver does not have that.
23) New York Giants
Daniel Jones now has some real talent around him which could be a big factor this season. With the return of Saquon Barkley, the Giants could be in contention for the number one spot in the NFC East.
22) Chicago Bears
The Bears have potential to move up in the rankings as the season goes on depending on when Justin Fields comes in as QB1. Whenever Fields comes in, I believe they could be a solid team in the NFC.
21) Las Vegas Raiders
The Raiders are in a very tough and competitive division, but Jon Gruden's Raiders may still be a tough team to beat.
20) Atlanta Falcons
The Falcons will definitely have a tough time adjusting to having no Julio Jones on their offense, but drafting TE Kyle Pitts could be a huge help. Matt Ryan also needs to stay consistent which could be a big factor.
19) Washington Football Team
It really comes down to whether or not Ryan Fitzpatrick can have another solid season or not. Washington's defense was actually really good last season and with Chase Young coming into his second season they have potential to be a threat again.
18) New Orleans Saints
The loss of Drew Brees leaves the Saints as a completely different team for the first time in a long time. It looks like Jameis Winston will be the new QB1 in New Orleans. My hot take is that Winston will be solid for the Saints. Not great, but solid. The team is already great on both sides of the ball so they really just need Winston to step up and be a solid QB1 for them.
17) Los Angeles Chargers
Justin Herbert needed protection on offense, and the Chargers got him exactly that. The Chargers have the potential to be a team in contention for the playoffs this season.
16) Miami Dolphins
Drafting WR Jaylen Waddle was a FANTASTIC move by Miami. Tua now has a real weapon to get the ball to on offense which could lead the Dolphins to improving yet again this season.
15) Dallas Cowboys
Dak Prescott suffered a gruesome leg injury last season, but is expected to be back to hopefully 100% this season. Having Prescott back is crucial to the teams offense. Improving their defense this off-season was a great move and will be a big factor for Dallas this season whether they disappoint their fanbase yet again or finally do something productive.
14) Pittsburgh Steelers
The Steelers have always been a pass heavy team, but I think that could change this year with the addition of Najee Harris. Harris was a top RB prospect in this years draft and has real potential to be a stud in the NFL. If Big Ben can stay healthy and consistent and they utilize Harris, we could see the Steelers back in the playoff picture.
13) New England Patriots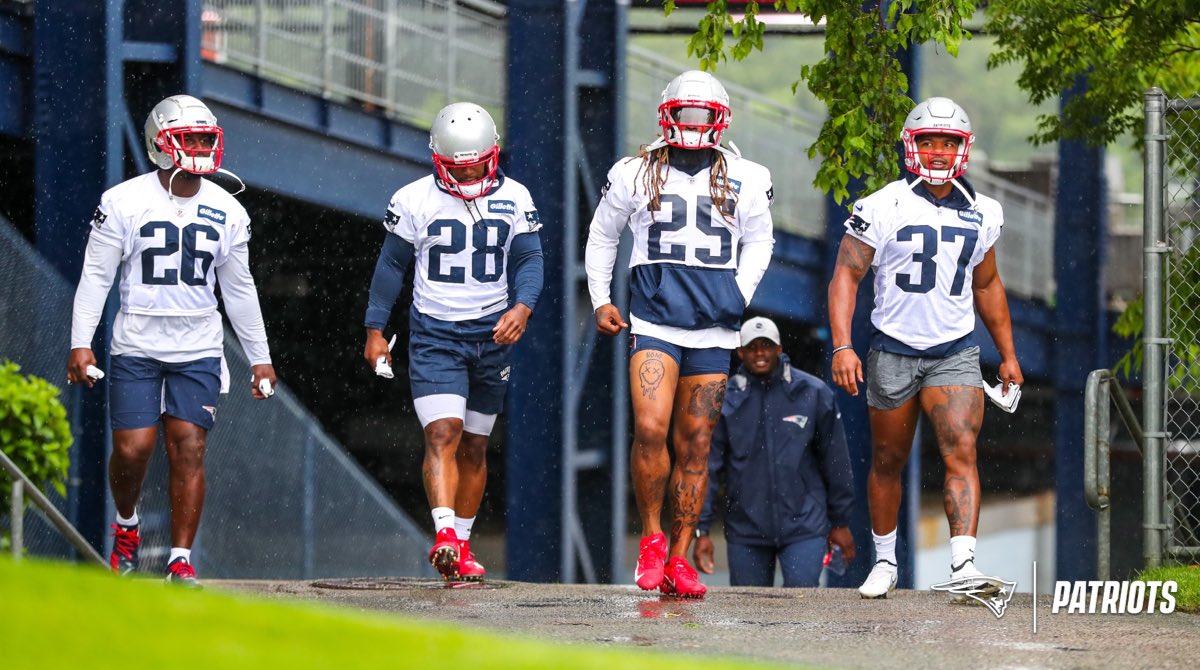 Nobody is really 100% sure who the starting QB will be in New England this season as it is a real tossup between Cam Newton and Mac Jones. Nonetheless, this New England team is looking WAY better then they did last season. They've got one of the best RB and LB groups in the entire league. They also added some weapons on offense and brought back star 0-linemen, Trent Brown. The Patriots really have a chance to get back to their winning ways this season IMO.
12) Indianapolis Colts
Indianapolis has a pretty solid squad. If Wentz can prove himself to be a top QB in the league like people thought he would be in Philly, the Colts could be in the mix for the number one or two spot in the AFC South.
11) Minnesota Vikings
Minnesota is another team that improved their O-line this off season. Giving Cousins some more protection could be crucial. If Cousins can stay consistent, the Vikings will be a team to watch this season.
10) Cleveland Browns
If everyone can stay healthy, Cleveland will be a top contender in a tough NFC North division this season.
9) Arizona Cardinals
Arizona had one of the most solid offenses in the league already. Adding JJ Watt to their defense made them even better. Watt and Chandler Jones will arguably be the best DE duo in the NFL this season.
8) Seattle Seahawks
With Russell Wilson saying he wants to stay in Seattle, the Seahawks will for sure be a team to watch in the NFC this season.
7) Tennessee Titans
With the addition of future HOF receiver, Julio Jones this Titans offense is STACKED. Tennessee could really be in the mix this season as a threat to win it all.
6) Green Bay Packers
If Rodgers sits out this season, then this Packers team will not be too good IMO. If Rodgers decides to play, then the Packers will be a threat in the NFC. The future of the Packers really will be defined by Aaron Rodgers.
5) Baltimore Ravens
Baltimore added some receivers this off-season for Jackson to get the ball to. Last season the Ravens were a run-heavy team. I believe that will change this season. Jackson also has some new protection which will be a huge factor in the Ravens success or failure this season.
4) Los Angeles Rams
This is the most balanced team the Rams have had in awhile. The addition of QB, Mathew Stafford gives them a better chance to win. Having Aaron Donald on the defensive side of the ball will always be a threat.
3) Buffalo Bills
The Bills were great last season but didn't do much this off-season to improve the team. Nonetheless, I believe they will have another strong season and will be a threat in the AFC. Watch out for Josh Allen.
2) Kansas City Chiefs
The Chiefs had a successful off-season. Adding a bunch of new offensive linemen to their squad was very smart. After Mahomes got harassed in Super Bowl LV, it was obvious they needed to improve the O-line and they did exactly that. Trading for Orlando Brown Jr, drafting Creed Humphrey, and adding a few other free agent linemen will leave them with a whopping eight new linemen this coming season. They already are a top offense in the league so with Mahomes having way better protection now, they will be a dominant offense.
1) Tampa Bay Buccaneers
The reigning Super Bowl champs are looking to run it back this season. They are practically the same team they were last season as they did not lose many players or sign many free agents. They still have the GOAT at QB1 so it is likely we will see them dominate once again.