RANKING EVERY 2020-21 NFL STARTING QUARTERBACK
Article written by Dylan Devine (9/21/20)
My rankings will be based on how I believe these quarterbacks will perform in the 2020-21 season. I will use past stats, but this is a fresh list.
1) Patrick Mahomes (Kansas City Chiefs)
The 2018 NFL league MVP. At just 25 years old, Mahomes has led the Kansas City Chiefs to their first Super Bowl win in 50 years and has a $500M contract with the team. He's got plenty of weapons and is expected to have another big season this year.
2) Lamar Jackson (Baltimore Ravens)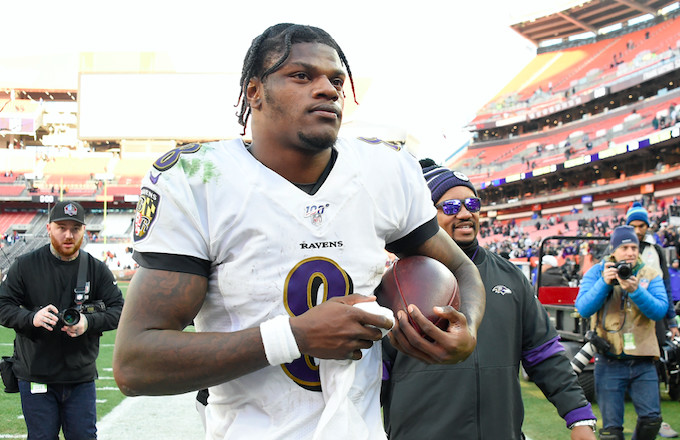 2019 NFL MVP. This QB can do everything. Threw for 36 touchdowns last season and rushed for seven. That is unheard of. He has proven all his doubters wrong and will continue to do so.
3) Russell Wilson (Seattle Seahawks)
The most underrated QB in the league. Some people think he is overrated, but in my opinion he simply doesn't get the credit he deserves. Wilson has arguably been the most consistent QB in the NFL since his debut with the Seahawks in 2012. He has put up 20+ touchdowns and over 3,000+ passing yards since 2012. He's going to have a huge 2020-21 season with D.K Metcalf likely to have a breakout year alongside two other solid receivers in Phillip Dorsett and Tyler Lockett. The Seahawks and Wilson are the real deal.
4) Aaron Rodgers (Green Bay Packers)
One of the greatest to ever play the game. Every season critics say he'll fall off, but he never does. He has put up fantastic numbers since he took over the QB position in Green Bay, and is looking to have yet another big season this year. In week one Rodgers threw for four touchdowns and 300+ yards. Going into week three, he is currently tied at number two in the league for most touchdowns with six.
5) Deshaun Watson (Houston Texans)
Another QB that can do it all. His ability to make something out of nothing is crazy. Watson has been sacked 133 times in his career as the Texans have had a relatively weak O-Line since his debut, but that does not take away from how good he really is. This season Watson doesn't have his number one guy anymore in DeAndre Hopkins, but still has some solid weapons in Randall Cobb, Brandin Cooks, Kenny Stills, and Will Fuller V.
6) Dak Prescott (Dallas Cowboys)
Man oh man did Prescott get PAID this offseason. Five year, $175 Million deal with the Cowboys. He is another highly criticized QB, but I honestly think the struggles that Prescott has had in the past is due to the mediocre offensive coaching staff he had. With some new personnel for the Cowboys offense, I expect him to prove all the doubters wrong this season.
7) Drew Brees (New Orleans Saints)
Yet another guy who is one of the greatest to ever play the game. The Saints have really struggled in the playoffs over the last couple of seasons, but Brees stats are always consistent. He has thrown 25+ touchdowns in practically every season since 2005 and never throws too many interceptions. He is one of the most accurate QB's ever. In what is likely to be his last season in the NFL, I expect him to still stay consistent and put up huge stats.
8) Carson Wentz (Philadelphia Eagles)
Yes he is only a few seasons into his career and the talent really is there which he has proven, but injuries have held him back. In 2019, Wentz threw for 4,039 yards and 27 touchdowns with only seven interceptions. There is a lot of pressure on him to continue to prove himself and bring some wins under the Eagles belt. I don't think the Eagles will make the playoffs this year but I believe Wentz will really prove himself this season as a star QB.
9) Matt Ryan (Atlanta Falcons)
Simply just one of the most accurate and consistent QB's of all-time. In his past nine seasons, Ryan has thrown 20+ touchdowns and over 4,000 yards every year. Julio and Ryan are one of the best WR QB duos ever in my opinion.
10) Kyler Murray (Arizona Cardinals)
This may be a hot take, but I am very confident Murray will have a huge second season this year. He's got some studs to pass the ball to. A top three receiver in the league with DeAndre Hopkins, one of the greatest ever in Larry Fitzgerald, and a future star in Christian Kirk. His playmaking ability is outstanding and ability to make plays out of nothing is amazing. Expect a breakout season for the 23 year old.
11) Tom Brady (Tampa Bay Buccaneers)
The greatest QB of all time. Brady left the New England Patriots in the offseason and now has a new home in Tampa Bay. I would have ranked him higher, but I simply just don't believe he is going to have a big year for the Bucs. Brady showed real decline last season and I think it will be a similar season this year on his new team.
12) Matthew Stafford (Detroit Lions)
Another guy who is highly underrated. Since he plays for a mediocre team that hasn't been good for quite awhile, he doesn't get the credit he deserves in my opinion. He has one of the biggest arms in the league and two seasons ago put up 27 touchdowns and 3,700 passing yards. The main question is how the Lions receivers will play and if there is enough talent on that roster to help Stafford out.
13) Jimmy Garoppolo (San Francisco 49ers)
Huge season for Garoppolo last year. Threw for nearly 4,000 yards and threw 27 touchdowns. Along with those stats he led the 49ers to the Super Bowl. He struggled in week one and suffered an injury in week two so it should be interesting what the 2020-21 season will look like for Jimmy G.
14) Cam Newton (New England Patriots)
I've been waiting to talk about this one. A former league MVP who was the Carolina Panthers star player for eight seasons. He GRINDED this offseason and got an opportunity with the Patriots to be there new guy. He already looks like himself again in New England and is certainly fitting in well. Expect a huge comeback season from SuperCam.
15) Ryan Tannehill (Tennessee Titans)
I'll be honest, Ryan Tannehill has really shocked me since his debut for the Titans. I really thought he would never be a top 15 QB in the NFL after how he played for Miami, but he has proven myself and many other people wrong. He won the 2019 Comeback Player of the Year award, and led the NFL in QB rating (117.5). We'll see how he plays this season, but coming off the 2019-20 season he had I had to put him in the top 15.
16) Kirk Cousins (Minnesota Vikings)
Meh. That's how I feel about Kirk Cousins. I believe he's inconsistent and doesn't have that huge of an arm. This season he's only really got Adam Thielen and Kyle Rudolph as his best options, which are good weapons but I don't know how he'll perform this season. I am certainly not confident in his skill set so I am not expecting a huge season.
17) Baker Mayfield (Cleveland Browns)
I had very high hopes for Mayfield after going number one in the 2018 draft, but he hasn't really lived up to those expectations. The Browns are still mediocre which is mind boggling as on paper they have a stacked roster and he has plenty of weapons to dish the ball to. I think he'll begin thriving under a solid coaching staff. I just don't know when that will be.
18) Ben Roethlisberger (Pittsburgh Steelers)
Not much to say about this one. Roethlisberger is nearing the end of his playing career. He has one of the biggest arms in the league and is very talented. I expect another big year from Juju Smith-Schuster so I think Big Ben will put up solid stats.
19) Josh Allen (Buffalo Bills)
Young guy with a bunch of talent and a lot of potential. Last season Allen threw for 3,089 yards and 20 touchdowns. He also rushed for 510 yards and nine touchdowns. He currently leads the league in passing yards with 729. With a new number one weapon in Stephon Diggs, I am confident Allen is going to have a huge season for Buffalo this year.
20) Jared Goff (Los Angeles Rams)
I wasn't too sure where to put Goff on this list. He has been very inconsistent. I think the Rams made a mistake giving him that huge contract so early in his career. We'll have to wait and see if that contract will pay off with how he plays this season.
21) Phillip Rivers (Indianapolis Colts)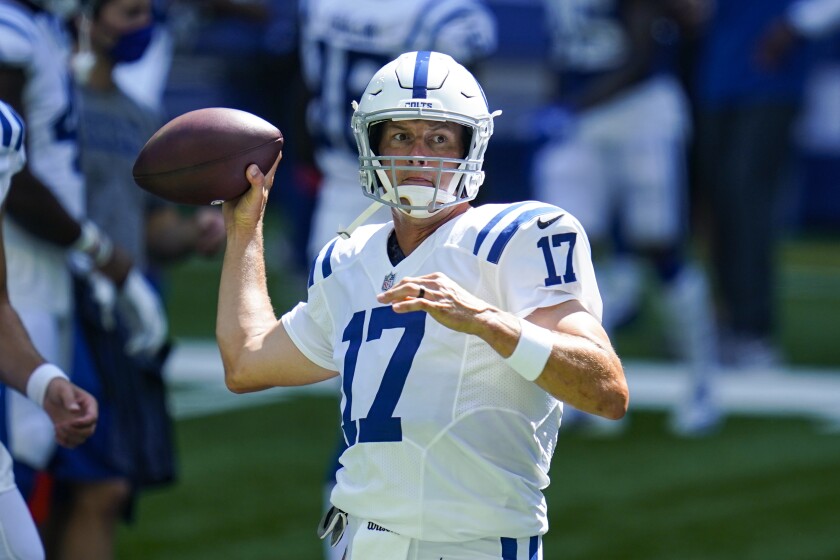 Last season Rivers threw almost the same amount of interceptions as he did touchdowns. That is absolutely absurd. I think he is declining and I am not sure how he's going to play in Indianapolis. I cannot deny the talent he has and the arm strength he has, so maybe he'll have a come back season.
22) Daniel Jones (New York Giants)
Another young guy with a lot of potential. He surprised a lot of people last season. 3,027 passing yards and 24 touchdowns. That is great for a rookie. I am confident in his second year in the league, Jones will begin to show even more potential.
23) Derek Carr (Las Vegas Raiders)
Another inconsistent QB. I don't think it's time for Carr to be in the top 15 or 20 yet. Give him another two seasons and I think he'll be there.
24) Teddy Bridgewater (Carolina Panthers)
Bridgewater really has something to prove this season. He was a solid starter in Minnesota before that devastating leg injury he suffered in 2017 where he nearly lost his leg. He showed real potential. Now he has taken over in Carolina for the Panthers and has potential to really be productive with a great group of guys around him.
25) Sam Darnold (New York Jets)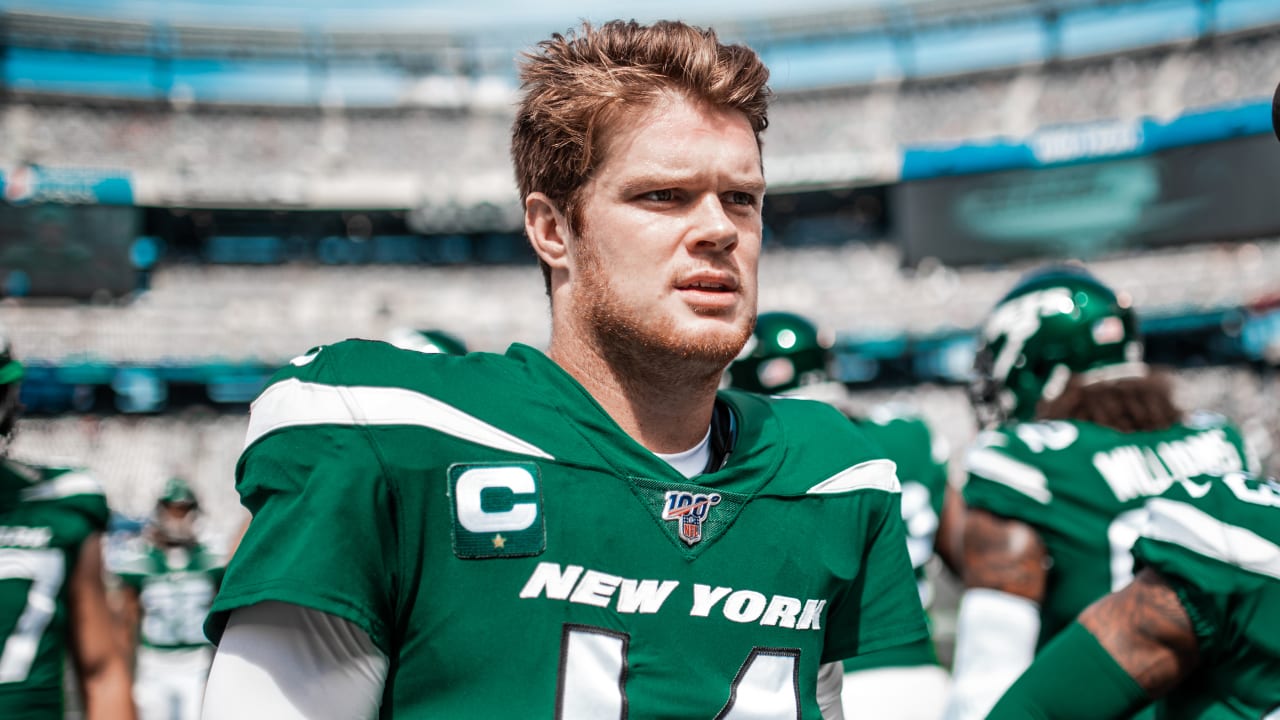 I am really not sure if Darnold will truly end up being the Jets franchise QB or not. Entering his third season he has been mediocre so far in his career. He was great in college, so I think the problem he has had so far in the NFL is lack of weapons and terrible coaches. His skills give him so much potential, but he just hasn't shown too much yet.
26) Joe Burrow (Cincinnati Bengals)
Joey Burrow. What a guy. 2019 Heisman Trophy winner and the number one 2020 NFL draft pick. He has real potential to be a stud in the league. He posseses everything a QB in this era of football needs. I am confident every season he will continue to move up this list. I think he'll have a solid rookie season, but nothing too crazy.
27) Drew Lock (Denver Broncos)
Lock has only started 7 games in his NFL career, but I think he's another kid who could be great and a franchise QB for the Broncos. With the weapons he has on offense, the likelihood of him being one of the best future QB's in the NFL is very high.
28) Gardner Minshew (Jacksonville Jaguars)
Another QB that I don't have much to say about. He has shown some signs of being really good, but has also shown signs of being really bad. The Jaguars are arguably the worst team in the NFL this season so I don't think he is going to have a great season.
29) Dwayne Haskins (Washington Football Team)
Haskins is a great playmaker and was great in college, but is playing on a terrible Washington team. Give him some time and he'll improve more and more every season.
30) Tyrod Taylor (Los Angeles Chargers)
Going into week three Justin Herbert might be the new starter for the Chargers, but I would rank him at this number too so it doesn't make much of a difference. Taylor is simply just a mediocre QB. Doesn't have a huge arm and playmaking skills aren't too good.
31) Ryan Fitzpatrick (Miami Dolphins)
Fitzpatrick is inconsistent, doesn't have great accuracy, and throws a hell of a lot of interceptions. I think it's time for Miami to start Tua.
32) Mitchell Trubisky (Chicago Bears)
Terrible.