TOP TEN NBA 2K21 POINT GUARD OVERALL PREDICTIONS
Article written by Dylan Devine (8/18/20)
Today I will be giving my predictions for who the top ten Point Guards will be in NBA 2K21 ratings wise.
1) Damian Lillard (Portland Trailblazers)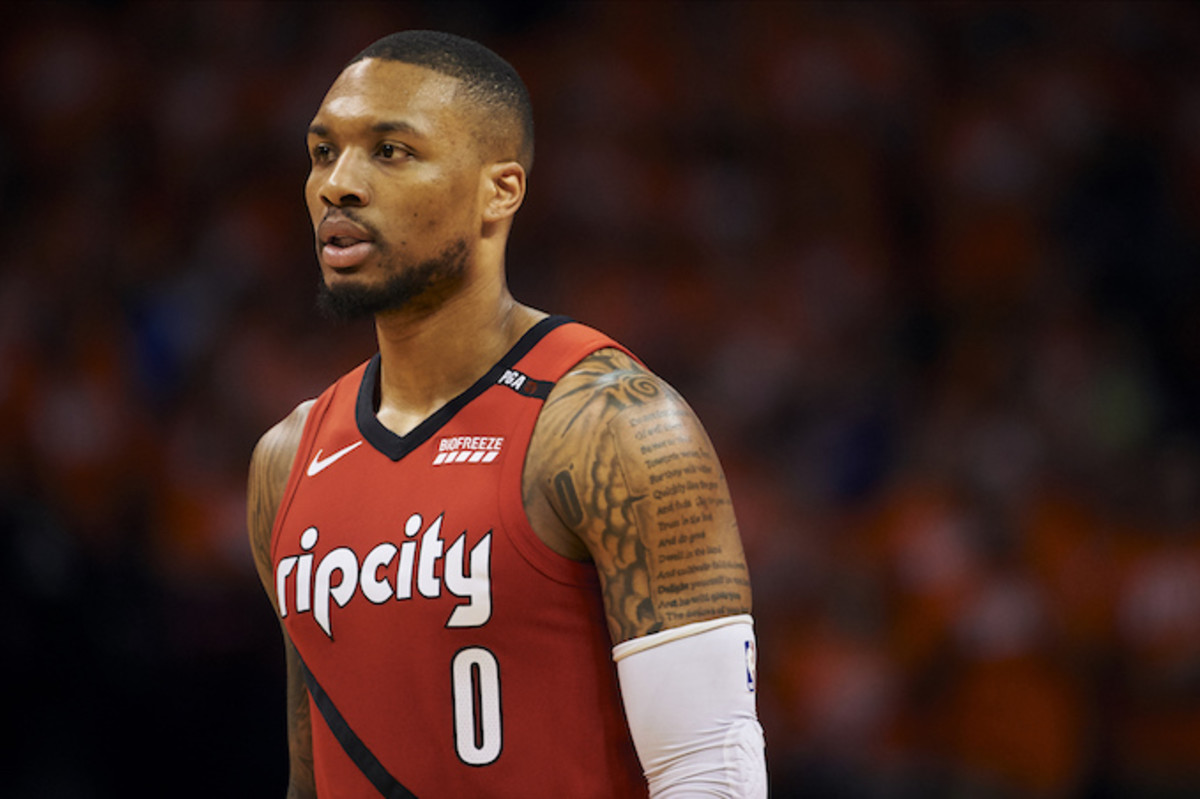 Overall prediction : 96
This may be a hot take as many people usually expect Stephen Curry to take the number one spot. Lillard is the cover athlete for this coming year's edition of NBA 2K, and after the 2019-20 season he has had I'm predicting he'll have the highest PG overall in the game.
2) Luka Doncic (Dallas Mavericks)
Overall prediction : 95
Another semi hot take. I believe we didn't see enough of Curry in the 2019-20 season to give him the number one or two spot as the highest overall PG. We definitely saw enough of Doncic to take the number two spot. I know he is technically a SG, but he played at point for a majority of the season and will likely be listed as a PG/SG. He is only 21 years old and is already a superstar in the NBA. Without a doubt a future league MVP.
3) Stephen Curry (Golden State Warriors)
Overall prediction : 94
As I previously stated, I simply don't think we saw enough of Curry in the 2019-20 season to give him a top two spot, but I'm comfortable putting him at the third spot for highest overall PG. Three time NBA Champion, two time league MVP, six time NBA all-star. The accolades this man has are unreal. He is the greatest three point shooter/all around shooter in basketball history in my opinion. He has been in the top five highest rated PG's in 2K for quite a few years now, and I don't think this year will be any different.
4) Russell Westbrook (Houston Rockets)
Overall prediction : 92
Another guy who has been in the top five for quite a few years now. Westbrook has exceeded expectations this past season with the Houston Rockets. Lot's of people believed he would struggle sharing the ball alongside James Harden, but he has pretty much been the same Westbrook. Almost averaging a triple double again, he averaged 27.2 PPG, 7.9 RPG, and 7.0 APG. He is always fun to play with in 2K as there is not much he can't do.
5) Kyrie Irving (Brooklyn Nets)
Overall prediction : 91
Kyrie has been all over the place over the past few editions of 2K regarding his rating, he's seen the number one, two and three spot over the past five years. He didn't play much this past season due to injuries, but when he did play he was the same unstoppable PG he has always been. In just 20 games, he averaged 27.4 PPG, 6.4 APG, and a career high 5.2 RPG.
6) Trae Young (Atlanta Hawks)
Overall prediction : 90
I was honestly tempted to give Young the number five spot, but I couldn't put him ahead of Irving just yet. One of the future stars of the NBA, in his second season in the league he was fourth in the league for PPG averaging 29.6 and second in the league for APG averaging 9.3. His passing, handles, and mid range game make him very fun to play with in 2K. Along with that he is merely unstoppable from behind the arc.
7) Ben Simmons (Philadelphia 76ers)
Overall prediction : 90
Simmons is yet another young star in the NBA. I don't have much to say for this pick. He is one of the best all around PG's in the league and being 6'10 makes him extremely hard to cover. The Sixers are always a good option in 2K.
8) Chris Paul (Oklahoma City Thunder)
Overall prediction : 89
At 35 years old, Paul has had one of the best seasons of his career. He put up amazing numbers and led the OKC Thunder to the playoffs. Which absolutely nobody expected.
9) Kemba Walker (Boston Celtics)
Overall prediction : 87
Kemba has been a fantastic fit in Boston. I wouldn't go to the extent of saying he's playing better then he did in Charlotte, but he has fit in very well into the Celtics system. In 2K21 I am predicting he stays at an 87 overall. Man oh man is the step back jump shot COLD.
10) Kyle Lowry (Toronto Raptors)
Overall prediction : 87
After the departure of Kawhi Leonard last off-season, many people counted the Raptors out. But they made their way to the finish the 2019-20 season as the number two seed. Lowry has always been a huge factor in the Raptors success, and this season was nothing different.